SAINT ROBERT OF NEWMINSTER PARISH
Incorporating the former Parishes of:
St. Mary of the Angels & St. Clare Church, Elbow St, Levenshulme, M19 3PY
St. Richard Church, Sutcliffe Avenue, Longsight, M12 5TN
Parish Priest: Fr. Michael Dever – Tel. 0161 224 1498
Website. www.stmaryslevenshulme.co.uk
Email. info@stmaryslevenshulme.co.uk
Resident at St. Mary's Presbytery: Fr. Martin Dowd, Chaplain to the Central Manchester Hospital
---
Sunday 3rd July 2022
FOURTEENTH SUNDAY IN ORDINARY TIME
"Stay with us, Lord, on our Journey"
TIMES OF MASSES AND SERVICES
Sunday: 9.30am Mass at St. Richard's – 11am Mass at St. Mary's
Monday: 9.15am Mass at St. Richard's
Tues. 10am Funeral Mass for Linda McDonagh at St. Richard's
Wednesday: 9.15am Mass at St. Richard's
Thursday: 9.30am Mass at St. Mary's
12.30pm Funeral Mass for Michael Daly at St. Richard's
Friday: 7.00pm Fr. Dever's Golden Jubilee Mass at St. Mary's
Saturday: 10am Exposition of the Blessed Sacrament
followed by 11am Mass at St. Mary's
Vigil Mass: 5pm at St. Richard's & 6.30pm at St. Mary's
CONFESSIONS: Saturday 11.30am – 12 noon at St. Mary's
Saturday 4.30pm to 4.50pm at St. Richard's
Feasts of the Week
Monday: St Elizabeth of Portugal
Tuesday: St Anthony Mary Zaccaria, Priest
Wednesday: St Maria Goretti, Virgin and Martyr
Saturday: St Augustine Zhao Rong and Companions, Martyrs
Pray for the Sick and Housebound and all those who are suffering from the coronavirus and others who are sick at this time, including Jimmy Connor, Patrick Deay, Maise Callaghan, Damien Hegarty, John Tunney, John Reynolds, Mary Callaghan, Sarah & Stacey Todd, Nancy Boyle, Bryne Lynch, Michael Browne, Mike Clyne, Kathleen McLaughlin, Margaret Cawley, Kathleen McGuigan, Maureen Kennedy, Kathleen Durkan, Steven Teague, Margaret McAteer, Frank Kelly, Jackson Giles, Joe Micalef, Jim Hynes, Anna Kerrigan, Maria Valgamilli, Judy Miller, Alan Smith, Sarah Mitchell, Mary Regan, Mary McGlade, Christine Jackson. Please inform the Parish Office if anyone needs to be taken off this list.
Lately Dead: Linda McDonagh, Chris McEntee, Michael Daly, Joe Wright, David Jones, Mary Duffy. Anniversary: Adorina Woronycz, Brian Draper, Maureen Duffy.
Speedy Recovery: Kathleen Murray.
Special Intention: Bridie Regan, Margaret & Hugh Brady, Madeleine Taylor, Philomena Johnson
The Funeral of Chris McEntee will take place on Friday 8th July at 12 noon at St. Joseph's Church, Reddish followed by Service at Stockport Crematorium at 1.30pm
HOLY COMMUNION AT HOME: Eucharistic Ministers are once more able to visit people in their own home in order to give Holy Communion to anyone who is unable to come to church. All our ministers have been DBS checked and will have taken precautions to ensure they do not carry the Covid virus. If you know of anyone who would like to receive Holy Communion, please ask the person's permission and then give their name, address and phone number to Fr. Dever or the parish office. We will then make contact by phone to arrange when we can visit.
ST. ROBERT'S GARDEN PARTY
Date: Sunday 18th September 2022 from 12 noon
Venue: St. Richard's Church Grounds, Sutcliffe St, Longsight.
If you have any items you can donate for the stalls plus raffle prizes will you please bring to either church any weekend?
We are also looking for volunteers to help on the day regarding setting up the stalls, cleaning up afterwards and looking after one of the stalls. If you can help in any way will you please put your name and telephone number on the list at the back of church. All the gazebos will be erected on Thursday and Friday prior to the Sunday. We hope that this will be a great social and financial event for our new parish.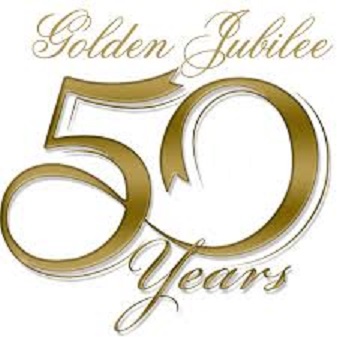 Fr. Dever's Golden Jubilee Mass will be held at 7.00pm on Friday 8th July in St. Mary's Church followed by a celebration buffet in the parish centre. Bishop John Arnold will be the main celebrant. All are welcome to attend.
RELICS OF ST. BERNADETTE VISIT
Salford Cathedral, 250 Chapel St, Salford, M3 5LE
Throughout 2022, a relic of St Bernadette will travel from the Upper Basilica in Lourdes, crossing the English Channel to begin a much-anticipated tour of the UK. The relic, a section of St Bernadette's thigh bone, will visit every Catholic cathedral across the country. Salford Cathedral will host the relic from the 20th-21st September 2022. This is a great opportunity for Catholics across the Diocese of Salford to come together to venerate the remains of a beloved saint and will be particularly significant for those who are unable to travel to Lourdes in person.
More information will be provided about the visit in the coming months.
SEA SUNDAY 2022: Seafarers and fishers play a vital role in all of our lives, but they often work in difficult, hazardous conditions. In the last year, more crews have been abandoned by their employers than ever before. Many are still being denied the right to leave their ships for even a short break away from the relentless noise and pressure on board. Many are reporting more stress and poorer mental health. Sea Sunday is Sunday 10th July. It is when the Church prays for all those who live and work at sea. Your support will make a big difference to seafarers and fishers in need. You can donate in church, by visiting www.stellamaris.org.uk/donate, or by texting 'SEA' to 70460 to donate £5. This collection is vital to enable Stella Maris to continue its important work, so please give generously.
MISSIO RED BOXES: Will parishioners who have a Red Mission box, please bring them to be emptied during the month of July to the parish office at St. Mary's. If you are unable to come to church and would like us to call and collect your box from home please phone the office on 0161 248 8836.
WEEKLY NEWSLETTER: Please take a copy of the newsletter home to remind you of the times of services and events during the week. Please give a copy to anyone you know who is sick or housebound.
Items for the newsletter including Mass Intentions can be left at the Parish Office Tel. 0161 248 8836 or emailed to info@stmaryslevenshulme.co.uk by Thursday midday. The weekend newsletter is published on Friday mornings!