St. Mary of the Angels & St. Clare, Elbow Street, Levenshulme, M19 3PY.            Tel. 248 8836
St. Richard & St. Robert, Sutcliffe Avenue, Longsight, M12 5TN. Tel. 224 1498
 Parish Priest: Fr. Michael Dever 
      TWENTY NINTH SUNDAY IN ORDINARY TIME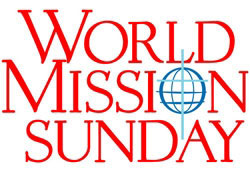 ---
Masses & Liturgy This Week
Monday 20th October – 9.15am Mass at St. Richard's 
Tuesday 21st October – 9.30am Mass at St. Mary's
Wednesday 22nd October – 9.15am Mass at St. Richard's 
Thursday 23rd October – 9.30am Mass at St. Mary's
Friday 24th October – 9.15am Mass at St. Richard's 
Saturday 25th October – 11.00am Novena Mass at St. Mary's 
5.30pm Vigil Mass of Sunday at St. Richard's
6.30pmVigil Mass of Sunday at St. Mary's
Sunday 26th October
9.30am Mass at St. Richard's
11.00am Mass at St. Mary's
Sacrament of Reconciliation
Saturday 11.30am to 12noon – St. Mary's
Saturday 5.00pm to 5.20pm – St. Richard's
Feasts of the Week
Wednesday 22nd Oct. Blessed John Paul II, Pope
Thursday 23rd Oct. Saint John of Capistrano, Priest
Friday 24th Oct. Saint Anthony Mary Claret, Bishop
Pray for the sick and housebound especially for those who are known to you, especially Bridie White.  May the Good Lord strengthen and comfort them. Pray also for all who care for the sick.
Grant eternal rest to those who have died recently
Lissy Paul
Let your face shine upon those whose anniversaries are at this time Jim Ward, Mary Cawley, Mary Byrne, Pat Lee, James Walls, Bridie Dinan, Beth Keane, Ronald Obray,
Peter O'Brien.
 'DO THIS IN MEMORY'
ST. MARY'S SACRAMENTAL PROGRAMME
Today (Sunday 19th October) St. Mary's parish community welcome the children and their parents to the first Preparation Mass as they journey towards full participation in the family of God through reception of the Sacraments of Reconciliation, Confirmation and Eucharist. Today we celebrate together and hear of Jesus' care for us all – He is our friend and Savour.
TODAY IS WORLD MISSION SUNDAY: Today the Holy Father invites all Catholics to contribute to a special collection for Missio, his official charity for overseas mission. Your prayers and donations today will support the work of missionaries and young churches as they share faith, build churches and provide healthcare and education, often in difficult and dangerous circumstances overseas. The World Mission Sunday collection will go in its entirety to support mission projects worldwide that bring God's love and message of dignity for all.
LITTLE SISTERS OF THE POOR: This weekend raffle tickets will be on sale at St. Richard's Church after Mass. All proceeds will go to St. Joseph's Nursing Home, Plymouth Grove West, Longsight.
CHANGE IN MASS TIME: Please note that from Saturday, 1st November, 2014 the Vigil Mass at St. Richard's Church will be at 5:00pm instead of the usual 5:30pm. This will mean that one priest can say both Vigil Masses if the need arises. The other Masses will be at the usual times.
CAFOD PARISH REPRESENTATIVES: CAFOD would be very pleased to hear from anyone in St. Mary's and St. Richard's who are interested in occasionally supporting its vital work in the parishes. CAFOD can offer you full support and the chance to make a real difference. Please do contact Ged Edwards on 705 0605 for further details. Thank you.
ST. MARY'S PARISH MAGAZINE:
The deadline for submission of articles for this year's Emissary is almost here (31st October). If you have anything to include please hand in at the presbytery or email to james.crean@ntlworld.com.  If you want any items back please make sure you include your name and telephone number.
ST. PAUL SUNDAY MISSAL: Anyone who would like to order the new Sunday Missal, price £5 please write your name and contact number on the list at the back of church at St. Mary's.  
ST. MARY'S SCHOOL DISCO: On Thursday, 23rd October at St. Mary's Parish Centre from 4pm until 6pm with DJ Jimmy (one of Levenshulme's top DJ's). Food and refreshments also available. All proceeds to the School Fund. Tickets available from St. Mary's School Office, tel. 224 5995.
NEW ZUMBA CLASS: Every Tuesday evening from 7pm to 8pm in St. Mary's Parish Centre. Cost £4. Everyone welcome.
BULLETIN: Items for the Parish Bulletin can be left at the Presbytery or emailed to info@stmaryslevenshulme.co.uk by Thursday midday at the latest. The weekend bulletin is published on Friday mornings