St. Mary of the Angels & St. Clare, Elbow Street, Levenshulme, M19 3PY.         
St. Richard & St. Robert, Sutcliffe Avenue, Longsight, M12 5TN.                         
Parish Priest: Fr. Michael Dever – Tel. 0161 224 1498      
Assistant Priest: Fr. David Egan – Tel. 0161 224 1895 
                THIRD SUNDAY OF EASTER
             "Stay with us, Lord, on our Journey"
MASS TIMES DURING THE WEEK
SUNDAY 19th April
9.30am Mass at St. Richard's
11.00am Mass at St. Mary's
MONDAY 20th April
9.15am Mass at St. Richard's
TUESDAY 21st April
9.15am Mass at St. Mary's School
WEDNESDAY 22nd April
9.15pm Mass at St. Richard's
THURSDAY 23rd April
9.30am Mass at St. Mary's
FRIDAY 24th April
9.15am Mass at St. Richard's
SATURDAY 25th April
11.00am Mass at St. Mary's followed by
Novena to our Lady of Perpetual Help
5.00pm Vigil Mass at St. Richard's
6.30pm Vigil Mass at St. Mary's
CONFESSIONS
Saturday 11.30am to 12noon at St. Mary's
Saturday 4.30pm to 4.50pm at St. Richard's
Feast of the Week
Tuesday 21st April: Saint Anselm, Bishop and Doctor
Thursday 23rd April: Saint George, Martyr, Patron of England
Friday 24th April: St Fidelis of Sigmaringen, Priest & Martyr
Saturday 25th April: Saint Mark, Evangelist
Saint Anselm: born in Aosta (Italy) in 1033, he was attracted to the abbey of Bec in Northern France eventually becoming Abbot, before following Lanfranc to become Archbishop of Canterbury himself in 1093. After a turbulent period of disagreement between Church and Crown, Anselm died in 1109. He left many fine writings, particularly in philosophy and mystical theology.
Pray for the Sick and Housebound and those who are known to you especially Mary Murray. May the Good Lord strengthen and comfort them. Pray also for all who care for the sick.
Grant eternal rest to those who have died recently.
Mary Henry, John Muldoon.
Let your face shine upon those whose anniversaries are at this time. Fr. Pat Keane, Michael Tigue, Doris O'Keeffe, Michael Dunne, Hannah Johnson, Lily Dunne, John Clerkin, Sean Deay, Patrick Keane, Mary Thomas, Lissy Paul.
REST IN GOD
Today we hear a story of the disciples encountering the risen Jesus. They are not immediately at ease; they are alarmed as they think they are seeing a ghost. But as soon as they are convinced it really is Jesus, they are filled with joy, and they settle down to eat with him. They are back in the company of their beloved friend and teacher. The disciples who met Jesus on the road to Emmaus had a similar experience – they immediately felt comfortable in Jesus' company, even when they thought he was no more than a learned stranger, and invited him to dine and to stay with them.
Our relationship with Jesus should be one of ease and trust. But we need to spend time with him to reach that level of closeness. Today's Psalm describes beautifully the joy and comfort that this relationship can bring: 'I will lie down in peace and sleep comes at once, for you alone, Lord, make me dwell in safety.'
SACRAMENT OF CONFIRMATION
Congratulations to the girls and boys who received the Sacrament of Confirmation on Thursday evening in St. Mary's. Our thanks are due to catechists and teachers who were part of the preparation team. The ceremony was joyful and dignified; thank you especially to parents and to all who were so respectful in church. Now we wait for 14th June the reception of First Holy Communion. The children will then be fully initiated into the Body of Christ. May the Holy Spirit guide them and all of us on our journey.
SECOND COLLECTION NEXT WEEKEND
Please note there will be a second collection next weekend 25th/26th April for the Ecclesiastical Education Fund, which supports the training of priests for the Diocese of Salford.

DARKNESS INTO LIGHT MANCHESTER is the flagship fundraising and awareness event for Pieta House who provides a free, therapeutic approach to people who are in suicidal distress and those who engage in self-harm. 80% of Pieta House's income depend on public donations, funds raised during Darkness into Light to help them continue to provide free service for the increasing numbers seeking help.
Darkness into Light Manchester will take part on Saturday, 9th May in the fundraising event 5km walk/run, starting time 4.30am from the Irish World Heritage Centre and finishing back at the IWHC. A group of people from St. Mary's Parish are taking part in the walk in memory of the late Sean Lyons, with consent from the Lyons family. If you would like to take part please see Siobhan Brennan in the parish centre on Sunday who will help you to register online. Registration is Adults £20, OAP/Student/Job Seekers £12. If you have any questions or would like further information please telephone Siobhan on 07581 487 101.
CONGRATULATIONS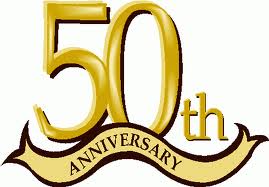 Heartiest Congratulations to Peggy and Peter Hodkinson who celebrate their Golden Wedding Anniversary today (Sunday 19th April). We wish you both many more happy years together.
BULLETIN
Items for the parish bulletin can be left at the presbytery or emailed to info@stmaryslevenshulme.co.uk by Thursday midday at the latest