SAINT ROBERT OF NEWMINSTER PARISH
Incorporating the former Parishes of:
St. Mary of the Angels & St. Clare Church, Elbow St, Levenshulme, M19 3PY
St. Richard Church, Sutcliffe Avenue, Longsight, M12 5T
Parish Priest: Fr. Michael Dever – Tel. 0161 224 1498
Website. www.stmaryslevenshulme.co.uk
Email. info@stmaryslevenshulme.co.uk
Resident at St. Mary's Presbytery: Fr. Martin Dowd, Chaplain to the Central Manchester Hospital
---
Sunday 12th June 2022
THE MOST HOLY TRINITY
"Stay with us, Lord, on our Journey"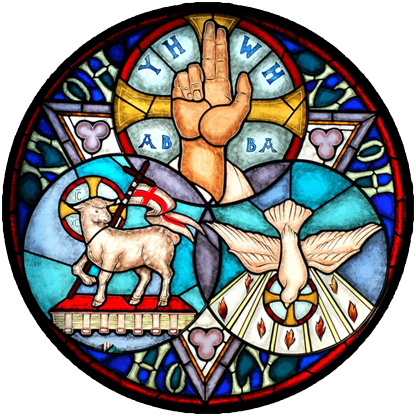 TIMES OF MASSES AND SERVICES
Sunday: 9.30am Mass at St. Richard's – 11am Mass at St. Mary's
Monday: 9.15am Mass at St. Richard's
3pm Funeral of Robert Simpson at Stockport Crematorium
Tuesday: 9.30am Mass at St. Mary's
Wednesday: 9.15am Mass at St. Richard's
Thursday: 9.30am Mass at St. Mary's
Friday: 9.15am Mass at St. Richard's
Saturday: 10am Exposition of the Blessed Sacrament
followed by 11am Mass at St. Mary's
Vigil Mass: 5pm at St. Richard's & 6.30pm at St. Mary's
CONFESSIONS
Saturday 11.30am – 12 noon at St. Mary's
Saturday 4.30pm to 4.50pm at St. Richard's
Feasts of the Week
Monday: St. Anthony of Padua, Priest & Doctor of the Church
Tuesday: The Dedication of the Cathedral
Thursday: St. Richard of Chichester, Bishop
Pray for the Sick and Housebound and all those who are suffering from the coronavirus and others who are sick at this time, including John Tunney, John Reynolds, Mary Callaghan, Sarah & Stacey Todd, Tom Dunne, Nancy Boyle, Bryne Lynch, Michael Browne, Mike Clyne, Kathleen McLaughlin, Margaret Cawley, Kathleen McGuigan, Maureen Kennedy, Kathleen Durkan, Neville Wright, Graham Edwards, Karl McGlynn, Steven Teague, Margaret McAteer, Frank Kelly, Jackson Giles, Joe Micalef, Jim Hynes, Anna Kerrigan, Maria Valgamilli, Judy Miller, Alan Smith, Sarah Mitchell, Mary Regan, Mary McGlade, Christine Jackson.
Please inform the Parish Office if anyone needs to be taken off this list.
Lately Dead: Andrew Dinan, Robert Simpson, Cormac Hayes, Andrew Branney, Celia Feely Month's Mind. Anniversary: Bridie Ward. Birthday Remembrance: Ann Marie Conway, Martin Coughlan, Mary McDole. Get Well: Mark O'Brien.
HOLY COMMUNION AT HOME
Following the end of "lockdown", Eucharistic Ministers are once more able to visit people in their own home in order to give Holy Communion to anyone who is unable to come to church. All our ministers have been DBS checked and will have taken precautions to ensure they do not carry the Covid virus. If you know of anyone who would like to receive Holy Communion, please ask the person's permission and then give their name, address and phone number to Fr. Dever or the parish office. We will then make contact by phone to arrange when we can visit.
DAY FOR LIFE COLLECTION NEXT WEEKEND
Day for Life is celebrated on the third Sunday of June, which falls this year on 18/19 June. Day for Life is the day in our calendar set aside to celebrate life from conception to natural death. This year the focus is on caring for and valuing the elderly. For more information and support initiatives which work to uphold the dignity of every human life, from conception to natural death, please visit https:// www.cbcew.org.uk/dfl22
ST. RICHARD'S GARDEN PARTY
I have been asked quite a few times whether or not we would be having the usual Summer Fair this year. The answer is yes, providing we can get some extra helpers. Everyone is getting older and not always able to take on the heavy work of putting up and taking down all the large gazebos. In addition tables and all the goods need to be brought out from the hall into the garden. I do hope we can get more willing helpers so we can go ahead with the Fair. It is always a great financial help to the parish, and also a very important social occasion. There will be a meeting to decide if we are able to go ahead or not next Wednesday 15th June at 7pm in the lounge area in St. Mary's Parish Centre. Please do come along and offer your help for this important parish event. Many thanks. Fr. Michael Dever.
EXHIBITION ABOUT 1982 PAPAL VISIT
Step back in time and reflect on Pope John Paul II's historic visit to our diocese by exploring a fantastic exhibition at Our Lady of Grace Church, in Prestwich. The exhibition features a range of photographs and mementos from that wonderful day on 31st May 1982, where the Pope celebrated Mass in Heaton Park and ordained 12 men to the priesthood. It will run until Sunday 3rd July and can be visited between 9am and 6pm Monday to Saturday and between 8am and 12 noon on Sundays
A MESSAGE FROM CAFOD – The paradox of abundance
Over 800 million people go hungry each day. The world produces over 4 billion tonnes of food and we only need 3.7 billion tonnes to feed everyone. Of this food produced a third is wasted. St. John Paul II called this 'the paradox of abundance.' Clearly the currently global food system is not working. Pope Francis says, "Each of us has a role to play in transforming food systems for the benefit of people and the planet." Let's respond to his call! CAFOD's new campaign is called Fix the Food System. See www.cafod.org.uk/food for more information.
WEEKLY NEWSLETTER
Please take a copy of the newsletter home to remind you of the times of services and events during Holy Week. Please give a copy to anyone you know who is sick or housebound.
Items for the newsletter including Mass Intentions can be left at the Parish Office Tel. 0161 248 8836 or emailed to info@stmaryslevenshulme.co.uk by Thursday midday. The weekend newsletter is published on Friday mornings!